Until I tried surfing, I never really stopped to think how crazy it is. But then there I was, lying on a surfboard in San Juan Del Sur, Nicaragua, my instructor pushing me into a wave and yelling, "Get up! Get up! Get up!"
She can't be serious, my body said. That's impossible.
Not only was it possible, but plausible. At my recent stay at the ChicaBrava surf camp, even I – by far the remedial student in our group of five – managed to ride a few small waves. Yes, in a standing position.
Ashley Blaylock founded ChicaBrava surf camp after leaving her native Texas for Nicaragua. Though trained as a lawyer, she chucked all that in favor of surfing. Ashley has won Nicaragua's national surf championship six times in the women's division and in 2007 was ranked fourth overall in Central America. Now she wants to empower other women through surfing.
Surf camp starts each Saturday when the ChicaBrava van picks up the latest batch of chicas from the Managua airport, then drives two-and-a-half hours south to SJDS. My group ranged in age from 20s to 40s, with folks currently residing in New York, Ohio, Portland, San Diego and Lima, Peru. The camp manager, a lovely young Hawaiian surfer named Noelani Anderson, accompanied us on the journey.
ChicaBrava offers two lodging options: The Surf House, which is dormlike and in town, and the Cloud Farm, a more upscale property about 15 minutes outside SJDS. We were bound for the Surf House, which felt like being dropped into a surfer chick clubhouse. First thing you see when you walk in is their massive surfboard collection. There's a big open room that serves as hangout area, breakfast space, and the site of surf theory lessons and surf movie watching.
That first day we unpacked, toured the town, and had pizza at a beachside restaurant.
Next day, it was rising early and preparing to meet the ocean at Playa Remanso.
Now, I might as well admit it: I'm kind of a chicken. I especially have a fear of sports where I'll break my wrist and put myself out of work. But I also fear avalanches, snow, sharks, stingrays, head injuries, knocked out teeth, really any broken or damaged body parts at all. Which is why I'm more comfortable in gyms and yoga studios, where there are fewer unknown variables to contend with.
The other beginner, Stephanie from Ohio, managed to stand up on her first wave. Not only can she waterski and snowboard, that chica brava has boarded down a volcano!
But Elsi Marin, my instructor that day, was steadfastly patient and encouraging. Over and over she'd find me a suitable wave, tell me when to get on my board and when to pop up. A pop-up means pushing from your belly up to plank, then stepping your feet into a position where they're perpendicular to the board. Then you stand with your knees bent, arms out to the sides, and ride your wave in to shore. Or fall on your butt. Or your face. Or many other ways I learned to wipeout that first day. But I did get up on my fifth or sixth wave, with intermittent success following. And there's no way that would have happened at all without Elsi guiding me! By the way, Elsi is a local star, being the first girl surfer from San Juan del Sur.
ChicaBrava keeps a ratio of about one instructor per three surfers. In our case, we got the grand treatment with three instructors and five chicas. We spent the second surf day at Playa Hermosa, a gorgeous long beach with opportunities to collect shells, lounge in a hammock or buy a fresh smoothie. Since the other chicas were all on the outside – that is, past where the waves break – I had Noelani all to myself. I understood the concepts a lot better, although my body was still way too slow in complying. I really wanted to ride the board on my stomach, where I was comfortable and could have a good look around. But Noelani trusted me to send me out alone for what they call the "Empower Hour." I was skeptical, but dutifully shuffled out – shuffling to drive off stingrays – with my board and tried to catch some waves uninstructed. I found I wasn't scared at all. In fact, I was a little relieved because I didn't have to feel bad for my instructors when I failed. Now the pressure was off. I didn't quite make it to standing, but I had learned enough about wave reading to know which to catch, and had gotten a lot better at handling my board and positioning myself on it more quickly.
Ours was only a three-night mini-camp. ChicaBrava's regular program lasts six days, which includes daily surf instruction, video review of the surf lessons, surf theory, homemade breakfast at the Surf House, surf movies and time for activities around SJDS.
Even in a mini-camp, we managed to squeeze in a couple of non-surf activities.
Kimberly Dawn and I went ziplining with the Flying Frog Canopy Tour. It was the first time ziplining for both of us and was lots of fun. I'd never looked down at the tops of trees like that. With 17 lines, it's a big operation and a good value for $30.
After ziplining we walked up for a closer look at the giant Jesus statue that towers over the harbor. That was a steep walk on a sweaty afternoon, but we were rewarded with gorgeous views of the bay, and a closer look at Jesus Grande.
On the last morning of mini camp, we got up early to observe the dawn patrol at Playa Maderas. This was our chance to see our instructors in action. However, after doing yoga on the beach for a little while, I went to get an Americano at Café Revolucion, an adorable thatched coffee house just off the beach. And there I met the sweetest pit bull puppy, only a few weeks old. He fell asleep in my arms, so I had to stay at the café for quite a while. I'm afraid I missed the surf show. Making me suspect yet again I might be more of an animal person than a people person. But look how cute he was!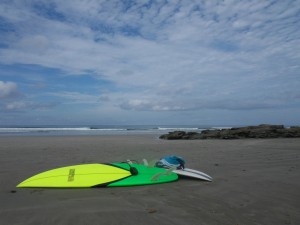 Other highlights of my ChicaBrava stay included taking a restorative class at Zen Yoga Studio, getting a massage at Gaby's Spa and Massage Studio and eating at El Colibri, SJDS's fine dining establishment. They do quite a nice South Indian curry.
And, of course, the empowerment aspect. Both Ashley and Noelani stress that surfing is a microcosm of life. At one point, Noe and I were in the sea and I told her when I was trying to catch a wave I wasn't sure if it was time to stand up yet or not. She said, "Oh, you should always stand up. It's just like life. You should always stand up."
And whether or not I further pursue surfing, that's advice I hope to remember.
If you like this post, please share!