Deep Cove is a cute little neighborhood in North Vancouver that used to be country. Now it's all boutiques and cafes. But the steep sides of the Indian Arm fjord limit the amount of development. So even though you're in a major city, start paddling your way up the 12-mile fjord and you'll encounter lots of nature fast.
I joined a small group for a kayak tour of Deep Cove and Indian Arm with Deep Cove Kayak Centre. Two cousins from British Columbia, a playwright from Montreal and our guide, James Hawes from Portsmouth, UK, made up our party.
The weather surprised us – sunny and gorgeous! I was hot and looked silly in my rain jacket. The kayaks had rudders and we steered them with our feet, which was easier than steering with a paddle.
This is a beautiful body of water. Even though it was sunny, there were still clouds and mist hanging over the tops of the rounded mountains for a shrouded, mysterious look.
One of my favorite parts of the trip was seeing baby seals. So cute! James explained that earlier in the summer, their moms had cared for them. But now they were at the see-you-later age, all hanging out on docks like teens at the mall. But cuter and spotted.
We also saw purple starfish. Fortunately we did not see a seagull come down and eat one, which James described to us as the gull taking about five minutes before it successfully opened its mouth wide enough to gobble one up.
Nor did we see a cougar. But another group of kayakers did! After our paddle, I saw a photo on her phone of the cougar hanging out on a big rock, staring right back at her.
The water was pleasantly cold and full of moon jellyfish, big and white and supposedly stingless.
James showed us 1800 year-old petroglyphs of crabs. Archeologists debate over what these pictures of three red crabs, one atop the other, mean. Were the early First Nations people giving the godfather of a Yelp review, saying you've got to try this crab? Or was it a warning – stay away, bad crab!
It was fun looking at the houses people have built along the shore. Some of these have the longest, most elaborate staircases leading down to the water. One had a tower, and another had a helipad!
This three-hour tour was well-paced, with James imparting historic and natural science information just often enough to give us a break from paddling. He also brought a bag of locally famous Honey's donuts for a snack break on a beach.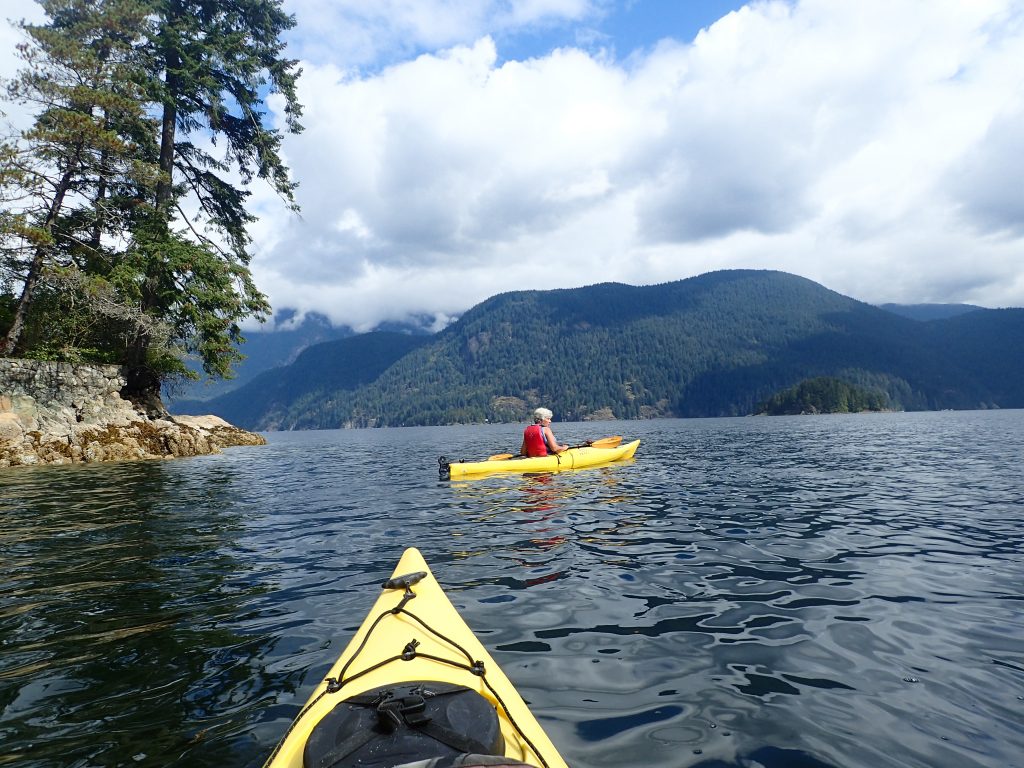 You can also opt to rent a kayak without a guide. But it was a lot more fun having James point out seals and starfish, helping me when my rudder got stuck and supplying everybody with donuts.
If you like this post, please share!