I've recently begun to integrate more green smoothies into my diet. At first I was leery – they looked kind of disgusting and what on earth would they taste like?
I started out very conservatively with flavors like chocolate or vanilla. My favorite usually include chocolate protein powder and peanut butter with lots of spinach, as the peanut butter covers other tastes, and spinach is pretty benign.
Now I'm getting a little braver and trying more adventurous concoctions. I recently tried powders made by Leap, which are much more innovative than my standard chocolate peanut butter. Leap comes in Red Power, Blue Zeal and Green Revive. See what I mean? Kind of mysterious.
The idea is you get a full day's serving of fruits and vegetables in one single smoothie. Leap powder includes superfoods, also known as brain foods, like kale, pumpkin seeds, goji berries in dehydrated or freeze-dried form. The powder is vegan, raw and organic.
First I tried the Blue Zeal. The main ingredient is coconut milk, followed by goji berry, banana, pineapple, pumpkin seed protein, lucuma, some other identifiable fruits, pea and hemp protein and kale. Doesn't sound that tasty, huh? Actually, it was pretty good. I blended it with soy milk and a banana and it tasted mostly sweet and coconutty.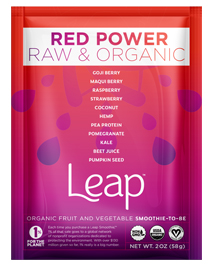 One serving contains 4 g fiber, 19 g sugars (a bit higher than I'd like), 10 g protein, 170 percent of the recommended allowance of Vitamin A, 55 % of C, and 12 percent of iron. At 200 calories, and only 2.5 g of fat — which is surprising since coconut milk is the first ingredient—this is a good dose of nutrients. However, the claim to qualify as a full day's serving of fruits and vegs is a bit exaggerated.
Leap is versatile. You can use it for smoothies, bowls, sprinkle it on yogurt or oatmeal, bake it into cookies or mix it with any sort of milk or milk alternative.  It's definitely worth trying for all fans of vegan protein powders.
If you like this post, please share!