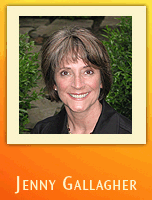 I'm happy to announce that my friend Jenny Gallagher has a new book coming out. Jenny is a yoga teacher, life coach and wellness expert whose goal in life is helping people live happier, more fulfilled lives. Check out her new book Yen Path: Taking Steps Towards What You Want in Life (Price World Publishing). The book's release date is June 1, 2011.
Here's what Jenny says about her book:
"Yen Path guarantees immediate results because the main objectives are to create awareness, align feelings with goals, and provide an easy to follow method.  If you want to be happy, healthy, thin, rich, or to have new relationships but you feel unhappy, unhealthy, fat, broke, or lonely, then you will have a much harder time succeeding."
Jenny's book costs $14.95 plus shipping online from Amazon.
For a signed copy, contact Jenny through her website.
You can also listen to my interview with Jenny Gallagher.
If you like this post, please share!