I've used the Happy Cow vegetarian restaurant finder for years on my computer, but finally bought the app this week. And immediately I found three vegan places in Portland I didn't know about! Which was well worth the $3.99 price of the app.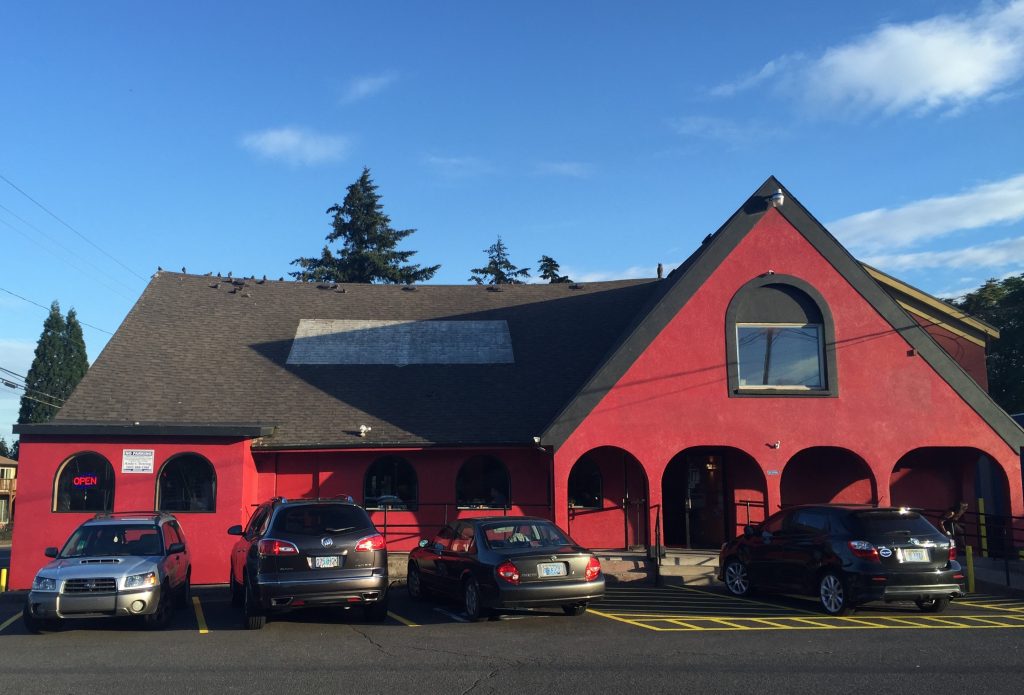 One of my new finds is Yuan Su Vegetarian, an enormous red restaurant way out at SE 111th and Powell which opened just three weeks ago. The menu of this Chinese and American restaurant is as big as the building. My cousin and I probably spent 15 minutes trying to make up our minds. Yuan Su specializes in the mock meats originally developed by Chinese Buddhist monks. This is your place if you want a vegan rendition of spareribs, squid or meat balls. Or you can stick with more standard veg fare like eggplant with hot sauce, crispy taro or lotus root with snow peas.
I wasn't quite adventurous enough to order a vegan sea cucumber, though next time maybe I'll try it. I opted for one of the four dinner combinations so I could try a few different dishes. Combo number two features veggie ham fried rice, veggie BBQ pork, veggie kung pao chicken and a spring roll. Even though the restaurant is entirely vegetarian, when confronted with fake meat I like to see the word "veggie" in front every time. It eases my meat anxiety.
The veggie ham fried rice was subtle. It didn't hit you over the head with a ham sensation. The veggie kung pao chicken was especially good, full of peanuts and spice. The spring roll was excellent accompanied by hot Chinese mustard. It's been so long since I've had pork that I don't remember what it tastes like, but this was a bit rubbery and I would have liked more BBQ sauce.
My cousin ordered pot stickers and a giant bowl of veggie mince beef soup, with extra veg. Of course, I had to try hers, too. My favorite thing about the soup was the enormous, crunchy snow peas. We both liked the pot stickers a lot.
So who is behind the biggest Chinese veg restaurant in Portland? Owner Jen Liu graciously let me ambush her into an interview while we paid the bill. Originally from northern China, Jen became vegan three years ago. Her inspiration? Mom. "She had high blood pressure and had a heart attack. But when she changed her diet, it's gone." Now Jen, her mother, sister and daughter are all vegan. She is excited to introduce people to Chinese vegan food, both to benefit their health and out of love for animals. "I hope more people can join the vegan people and the vegetarian people," she said.
Jen's daughter Phoebe, who is almost 12, has been vegan for about a year and a half. The transition has been fairly easy for her, especially since she has the support of her friends. "My friends understand," she said. Their chef honed his skills cooking at home for his vegan family.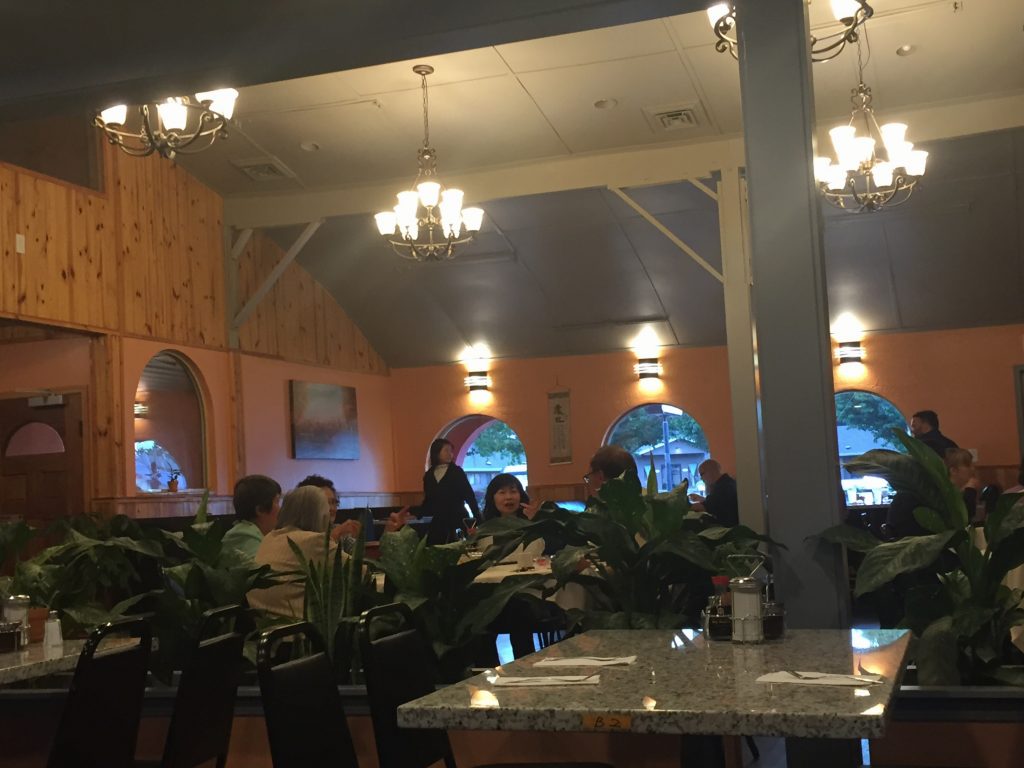 On my Monday night visit, the dining room was a who's who of vegan Portland. I saw one of my favorite chefs, Aaron Adams of Farm Spirit. He'd seen the owners of Homegrown Smoker Vegan BBQ, Food Fight! Grocery and vegan bloggers/artists Little Otsu. I was too busy talking to my cousin and eating Chinese veg food to pay much attention to who else was eating there. But I was really glad to know that other veg proprietors are making their way out east of 82nd to check out and support our newest vegan restaurant. I hope to visit again soon.
If you like this post, please share!