My friend and I thought that by meeting for lunch at the abnormally early hour of 11:30 a.m., we could avoid the crowds at Harlow. No such luck! When I arrived, I found her in a long line waiting to place her order at the counter.
This newish restaurant opened last summer. Karen Pride and Brittney Galloway, the force behind health-conscious Prasad in the Pearl, founded Harlow, too. It quickly caught on with people from SE Portland and beyond. Harlow is where gluten-free meets shabby chic. The space is one big open room, which looks very modern, but filled with repurposed old tables and a charming old cupboard at the self-serve water station. A row of mismatched chandeliers hangs over a long, communal table. But you can also choose your own four-top or two-top.
After planning to visit Harlow for months, I finally ate there twice in one week. Once with a friend for lunch, once with another friend for dinner. During my crowded lunch experience, I had an excellent African peanut stew with quinoa and greens. The quinoa was light and airy. The stew was rich and probably full of fat. My friend ordered a breakfast dish called The Maverick, the cashier recommended. It's described as "mustard maple roasted vegetables, garlic herb polenta and steamed kale with choice of bourbon bbq tempeh or two poached eggs." She chose tempeh. It looked so good I wanted to eat both lunches. But my stomach is only so big, and not wishing it to grow even bigger, I stuck with my stew.
When I returned a few days later for dinner, I chose the bourbon barbecue tempeh plate. It comes with "garlic herb polenta and steamed greens served with jalapeno cashew cheese, house pickles, scallions and raw onion bread." The tempeh was definitely a success, flavorful and plump, if I can call tempeh plump. The greens were also good. But the polenta was flavorless and the raw onion bread was the most oniony thing I've eaten in all of 2013 and the first week of 2014 combined. The "raw" refers to raw food, and the "bread" to something more resembling a flat strip of pepperoni. It tasted pretty good – though nothing like bread – but I was awakened by my own onion breath at four a.m. and had to get up and gargle with industrial-strength mouthwash before getting back to sleep. Only eat the raw onion bread if you can live with the results! Be forewarned!
My friend made a better choice with the tanuki bowl, which is rice noodles and seasonal vegetables served hot in housemade miso broth with sea vegetables, scallions and black sesame seeds. She ordered a side of greens and mixed that in, too. I only had a bite but the broth tasted good and probably allowed her to sleep through the night.
Harlow has an amazing menu of smoothies, juices, cocktails, teas and espresso drinks. I have not tried any yet. But here are a couple that look intriguing: The tempest, which is mango, spinach, coconut oil, avocado, date and cayenne. And the warrior, consisting of strawberry, avocado, maca, date, vanilla and hemp seeds.
You can get breakfast until two p.m. on weekdays, three on weekends. The lunch menu goes into effect at 11 a.m., the dinner menu at 5 p.m. Most entrees cost about $10.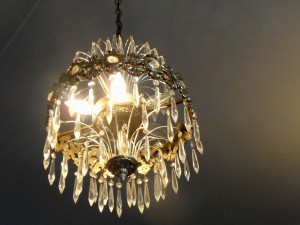 Despite my brush with raw onion bread, I am ready to return to Harlow for any meal. I especially want to breakfast on their lemon poppy quinoa pancakes with blueberry compote. Judging from Portland's response to Harlow, it looks like this restaurant will have a long and happy run.
If you like this post, please share!