Sometimes I'm a person of action, and sometimes my actions are inspired by the dread of an expiring Groupon. So on Easter morning, I set out on one of eNRG Kayaking's first expeditions of the year. This operation out of Oregon City, 14 miles south of Portland, offers a tour of Willamette Falls. I'd seen this powerful falls – second only to Niagara in North America for volume – from the road, but was excited to see it at river level.
We had a funny mixed group of kayakers on that Sunday morning.  A few Grouponers like me, some Australian media folks, and a bevy of potential summer guides for eNRG. For them, this tour was part of the interview process. These young college students were super fun to interact with. One brave young soul had been a rafting guide in Alaska, and another guy is a racer on the US canoe and kayak team. He had some spiffy racing canoe that he steered in circles around us. I had a big Jackson recreational kayak, like a Cadillac on the water next to his Ferrari.
But my favorite participant was Mojo, our guide Sam's dog. They rode together in a tandem, Mojo relaxing upfront.
Sam gave us snippets of history as we paddled along. We got a close up look at the closed Blue Heron paper mill. After more than a century of hydropowered sawmills in this spot, the mill closed down in 2011. I'd always wanted to get a close up look, and it was a good opportunity to see it from below. Sam also steered us into a lock.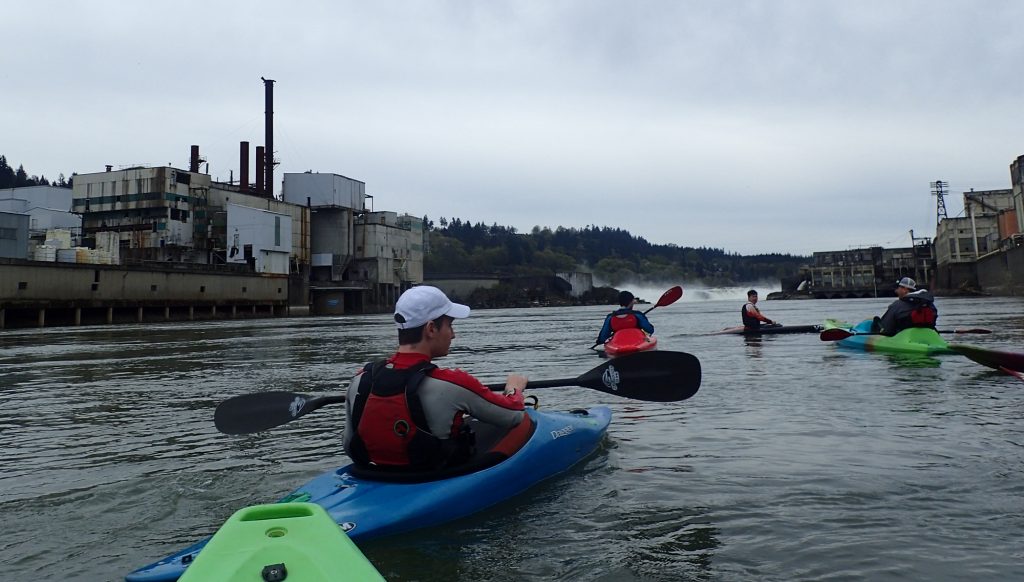 Much as I love old industrial sites, my biggest thrill was being at eye-level with sea lions. I hadn't even realized we had them in the Willamette! One of the guides or guides-in-training told me they'd just started swimming into the Willamette a couple of years ago. And no wonder – the salmon and sturgeon were jumping. Sam told us about the eel-like lamprey, a fish sacred to local Native Americans. This weird fish climbs the waterfall, using its mouth to attach to the rock!
Spring was a good time to go out on the water, because it wasn't too crowded yet. Once it hits 70 degrees, kayakers swarm on eNRG to rent kayak or take guided tours, Sam said. If you're an experienced kayaker, this is an interesting place to paddle around. And if you're a beginning, this guided tour is a very easy and accessible way to get on the Willamette.
If you like this post, please share!