It's a jolly day when a company sends me a box full of mysterious super food mixes to try. Time to get out the blender!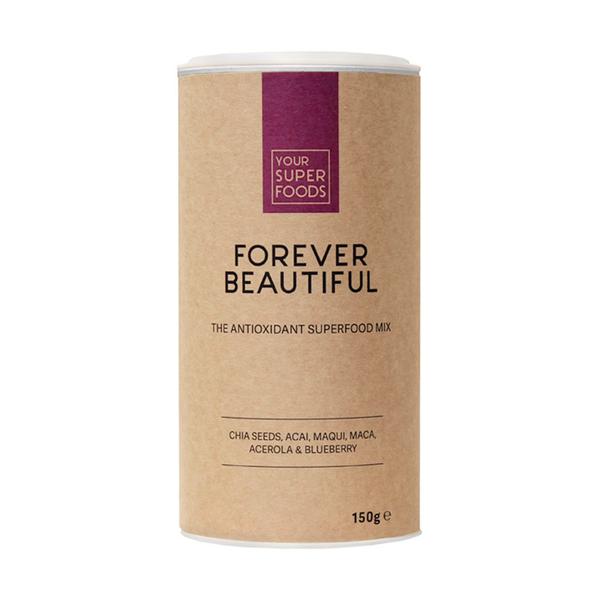 California-based Your Super Foods makes vegan, organic mixes that you can add to your smoothies, oatmeal or yogurt. They concoct seven formulations, depending on what you want to get out of your smoothie:
Energy bomb
Forever beautiful
Power matcha
Super green
Muscle power
Skinny protein
Chocolate lover
A few of these intimidated me, due to ingredients (Moringa, cholorella, barley grass powder??!!) or promises (Forever beautiful?! Have you seen me early in the morning?). So I started with chocolate lover, a premise I could live up to, and containing at least some familiar ingredients, such as coconut, cacao and carob.
I blended the chocolate super food mix with a banana, frozen blueberries and soy milk. It tasted just fine. As the days went on, I ventured further into my box of goodies, conquering my fear of barley grass powder and delving into matcha. I have to admit, these powdered super foods are an improvement over my usual fresh spinach smoothies, which always seem to have a few unblended stems, which gross me out. I prefer the pre-pulverization of the powders. Some of the textures are a bit odd, such as the chewy chia seeds in Forever Beautiful, but they taste fine. Adding dominant flavors like banana, peanut butter or tahini to the smoothies makes the barley et al less noticeable.
Your Super Foods founders, Kristel de Groot and Michael Kuech, are both fitness nuts who've still faced health problems, ranging from eczema to cancer. Passionate about improving their health through super foods, they developed their line of powders through research, trial and error.
They also have a rad giving program. Your Super Foods partner with Action Against Hunger to deliver vitamin and mineral-enriched, shelf-stable Plumpy'Nut bars to malnourished kids in 45 countries. When customers buy a YSF mix, the company donates a bar. At the time I'm writing this, their website counter says that Your Super Foods has donated 37,566 bars.
Okay, time to go mix another smoothie and work on this Forever Beautiful goal.
If you like this post, please share!