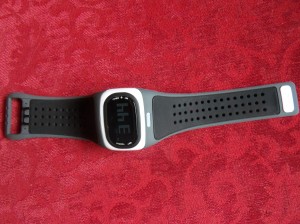 I have a little OCD part of me that likes to measure things. I love stopwatches, bike computers and the like, unless they take me a long time to figure out. One of my favorite accessories is a heart rate monitor. I got really fascinated by measuring my heart rate when I took a Spin certification course and a monitor was required for the training (I realize this is a little weird. You don't need to point it out). At the time, I borrowed the regular sort of two-piece heart rate monitor. One part looks like a normal sports watch, worn on the wrist. The other piece is a chest strap that sends a radio signal to the watch.
The chest strap is the less fun part of this duo. You cinch it tightly just beneath the bottom of your sports bra. But as you sweat, the strap has a tendency to slip and slide. Not only does this diminish its accuracy, but requires lots of adjustment to your bra area. If you're in a group ex class or out running, this makes you look like a weirdo.
Enter the MIO Alpha to the rescue! This new heart rate monitor accurately measures your heart rate with a wrist-only design. No sweaty chest strap! My friends from MIO Global sent me one to try out. My new heart rate monitor and I have been having lots of fun together.
Design
First of all, fashion. I think the Alpha is really cute in a space-age, high-tech sort of way. With a band that's just over an inch wide at its narrowest part, it looks more like a wrist cuff than a watch. The black band with charcoal and white accents is nicely neutral.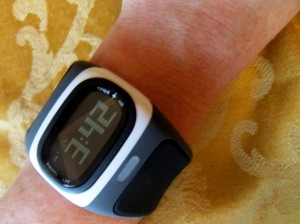 To get an accurate reading, you need to wear the band just above the wrist bone. I'm a medium-sized person (5' 6", 135 lbs) with smallish wrists, and the fastener is on the second to the last set of holes for me. This might be a problem for petite folks. For example, people who are closer to 5 feet and 100 pounds might need to wear their Alpha around an ankle!
Activity
One of my main gripes about heart rate monitors that require chest straps is that too much activity makes the strap slip down around my waist. While a chest strap monitor stays in place pretty well for Spin, it lasts for less than a minute of my Zumba gyrations.
I first tested out my Alpha while teaching a Bombay Jam class. Once I fastened it tightly enough, it worked fine. Note, it must be tightly fastened if you're doing dance fitness or other activities involving waving your arms around.
I've read that Zumba incorporates interval training, but usually when I take class the exertion runs together. While monitoring class with my Alpha, I could note the rises and dips in my heart rate during calmer and faster routines. Neato.
Applications
The MIO Alpha allows you to do all kinds of nifty things, such as program your target heart rate zone. You set a high and low number for your exercise session and the Alpha beeps when you work too hard or not hard enough. After your exercise session, you can find your average heart rate. You can also pair your Alpha with a receiving device, such as a smartphone, and use data in conjunction with other apps. As a writer, I spend enough time looking at a screen so am not as app-happy as some. But maybe I will try this in the future. Oh, and you can swim in your Alpha, too.
Accuracy
The Alpha bills itself as "the world's first performance level, strapless, continuous heart rate monitor you can wear on your wrist," and as "very accurate." I was a bit skeptical when using my Alpha during step aerobics and boot camp classes. At times it showed a heart rate considerably lower or higher than I would have guessed. Does my heart rate really fluctuate that much? Well, maybe so. I didn't stop participating in class to try an alternate heart rate measure, as I didn't want to look that oddly OCD in front of my classmates. But at home I tried dancing around, then comparing the Alpha's reading to the old-fashioned method of putting a finger against my pulse while timing six seconds on my stopwatch and then multiplying by ten. I know, I just used a super low-tech method to confirm a high-tech gadget, but that's just the kind of person I am. Anyway, I was much reassured that the two methods produced the same number.
Overall, I'd say the MIO Alpha is a winner. I look forward to trying it out in more settings. It's a fun indulgence, or makes the perfect gift for fitness buffs.
If you like this post, please share!