One of my Utah-based travel writer friends was shocked when I proclaimed my affection for Provo. "That's the most boring city in Utah!" she said. But for my household of non-drinking hikers who appreciate clean streets and friendly, polite citizens, it's an ideal place to spend a few relaxing days. Here are some highlights.
Rock Creek Canyon
The trailhead is on the outskirts of Provo, so it's a popular place for locals to get exercise. A steady uphill will get your heart pumping faster, but there aren't any really steep parts. The creek provides plenty of good water for four-footed companions and the huge rock walls are gorgeous. Rock climbers love this place, too. We took this hike twice – once on our way down to southern Utah, and again on our way back. Although our visits were only a week apart, the upper trail was snowy the first time, and sunny the next.
Bombay House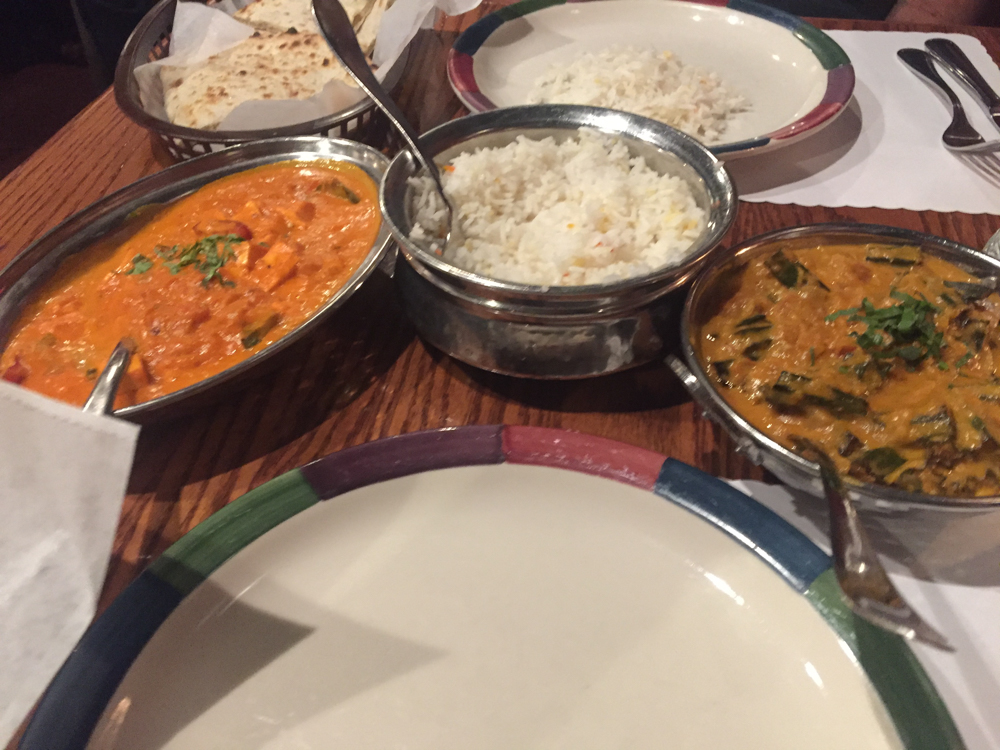 I was surprised to find some of the best Indian food ever in Provo, and an extremely vegan-friendly menu. We especially liked the vegetable coconut kurma, which is mixed vegetables cooked with onions, tomatoes, cashew nuts, golden raisins, coconut milk, and spices. The bhindi mappas, an okra dish, was also delicious. Even the naan at Bombay House is vegan! Our favorite was the Peshawari, stuffed with coconut, raisins and cashews. Leftovers made an excellent breakfast.
Guru's Cafe
This funky restaurant is all bright colors, huge Gandhi photo, and lots of healthy and offbeat menu items. Vegans have a half dozen or so choices. The Veggie Curry Bowl is the best choice, with zucchini, yellow squash, carrots, green beans, snow peas, edamame, bean sprouts, cashews, and tofu in a spicy coconut curry sauce over rice. Guru's sweet potatoes fries are also a menu highlight.
Baymont Inn & Suites Provo River

We fell hard for this dog-friendly hotel, and wound up staying here two nights on the way south, and two nights on our return. After that, it felt like home! We appreciated the small gym, swimming pool, easy chair with ottoman and the breakfast room. As high-maintenance veg travelers, we carry a ridiculous amount of food and camping cookware. We ate most of our own food for breakfast, but the toaster and hot water came in handy. Perhaps our favorite thing about the Baymont is that it's right on the Provo River. Our days started with pleasant riverside dog walks.
Bodhi Yoga
Right across the street from the Baymont, Bodhi Yoga offers a few classes per week. I took a Wednesday morning flow class. Pretty little studio, friendly people, non-intimidating. Twelve bucks for a drop-in.
Sub Zero Ice Cream

Brigham Young University dominates Provo. The city is full of Mormons. This is probably why everything is so clean and the people are polite. Also why it's much, much easier to find an ice cream parlor than a coffee shop or bar.  Vegans can reap this ice cream bounty at Sub Zero. I'd never heard of this chain before, but I was quickly lured in by its fascinating concept: Use liquid nitrogen to create individual ice creams on the spot. Which means your flavor choices are practically unlimited. Vegans can choose from a rice or almond milk base. Add some agave, flavoring syrups of your choice, and add-ins. For example, mint flavoring with dark chocolate shavings or maple flavoring plus pecans. The wizard pours your chosen ingredients in a silver bowl, then adds a big blast of liquid nitrogen, clouds of cold fog billowing out like a witch's cauldron. If there's a line, be prepared to wait a while, but it's fun to watch and tastes pretty good.
If you like this post, please share!