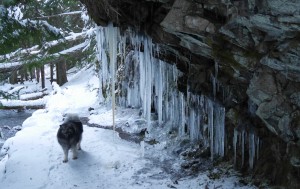 I've always been superstitious about New Year's Eve. I worry that a stupid start to the new year will lead to a stupid year. So I'm leery of loud and drunken parties full of people I don't know or care about.
This year my boyfriend and I decided to take his dog to Mount Hood, where 2015 could start in a snowy, quiet way. I was hoping to find a cabin to stay in, but they all required a two-night minimum and we only had one day off together. Somebody recommended Resort at the Mountain as a place where we could stay a single night and bring a dog. I called and learned that the dog weight cutoff is 50 pounds. Fortunately, Rudy weighs 45.
The resort features a golf course and spa. It's pretty large – people typically drive between reception and the steam room, at least when it's snowing. The rooms where dogs can stay are down the road a half mile or so from reception in a one-story building that looks like an ordinary motel. The rooms share a large, fenced-in backyard for romping dogs. Inside was a nice, standard, comfortable room. This block of dog rooms feels cut off from the rest of the resort because, well, it is. So if you stay here when the temperature is in the 20s, mentally prepare for driving to the pool and other far-flung parts of the resort.
The pool area was disappointing. The area surrounding the pool was icy. Several of the gates weren't working, so we shivered in our swimsuits and cover-ups, vainly trying our key cards until we found a gate that opened. We ventured toward the Jacuzzi twice. The first time we were put off by a screaming child, the second by a tub full of yelling young people and clinking bottles.
Altitude is the name of the resort's restaurant. We ordered from the room service menu, which was a good value and featured several vegetarian dishes. The house salad ($9) is immense, full of mixed greens, candied nuts and champagne vinaigrette. You can get a hummus plate ($10), a black bean burger ($11) or a stuffed bell pepper ($15). I got the pepper, which was very good but different than described on the menu. What was advertised as a vegan item full of brown rice, lentils and marinara arrived stuffed with quinoa and covered in cheese. The dog appreciated the cheese, but vegans won't be thrilled by this dairy surprise. Gluten-free folks can choose between four different entrees.
Overall, the resort was pleasant and comfortable but, at around $200 for one night, pretty pricey. I was willing to pay that much to start the new year at Mount Hood, but on an ordinary night I couldn't justify the expense.
However, the location is great. We were only a mile or two from the Salmon River, which has a very easy, mostly flat trail. We drove up to Timberline Lodge and watched the last sunset of 2014 turn the snowy mountain pink. Trudging through snow, marveling at giant icicles, being with someone I love and watching a very happy dog were all great ways to end one year and start a new one.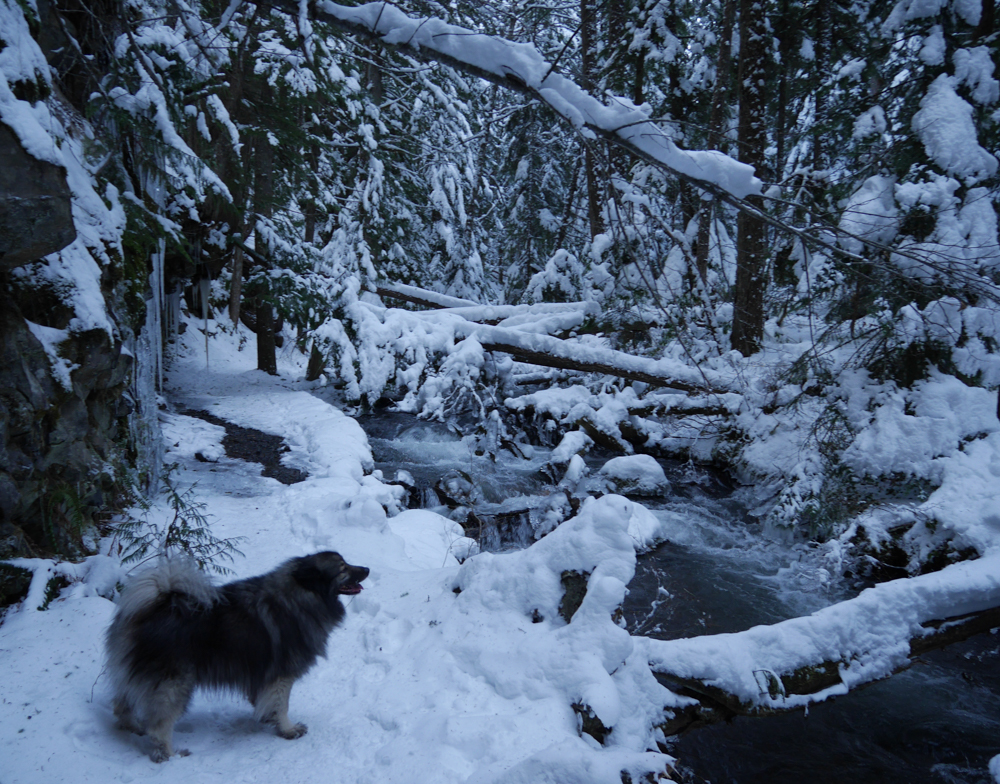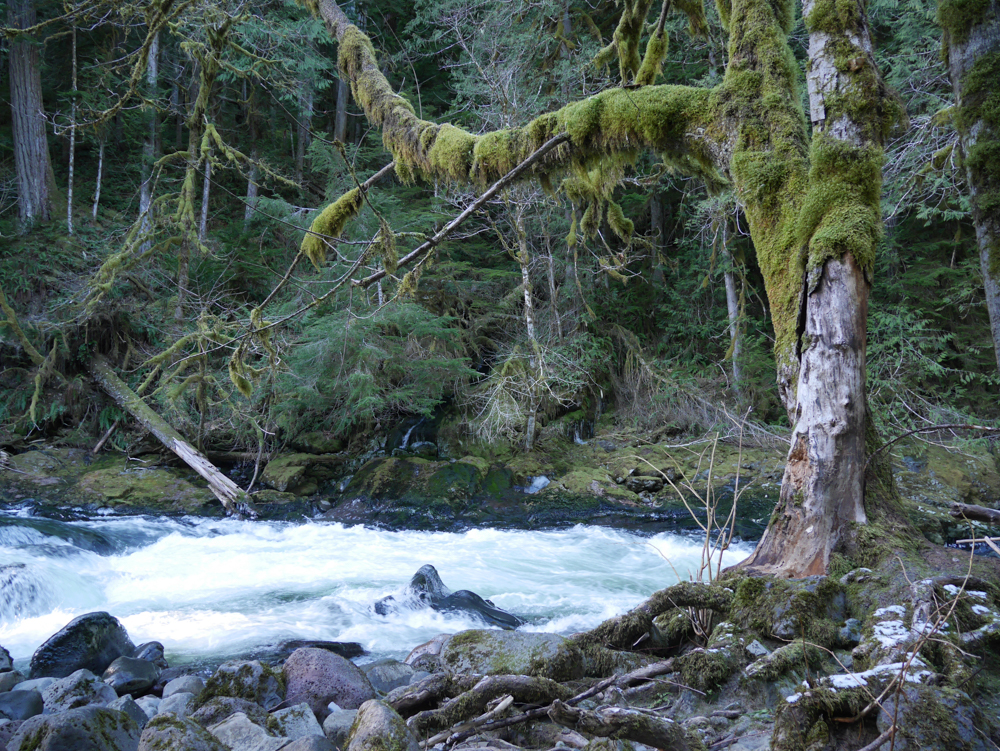 If you like this post, please share!