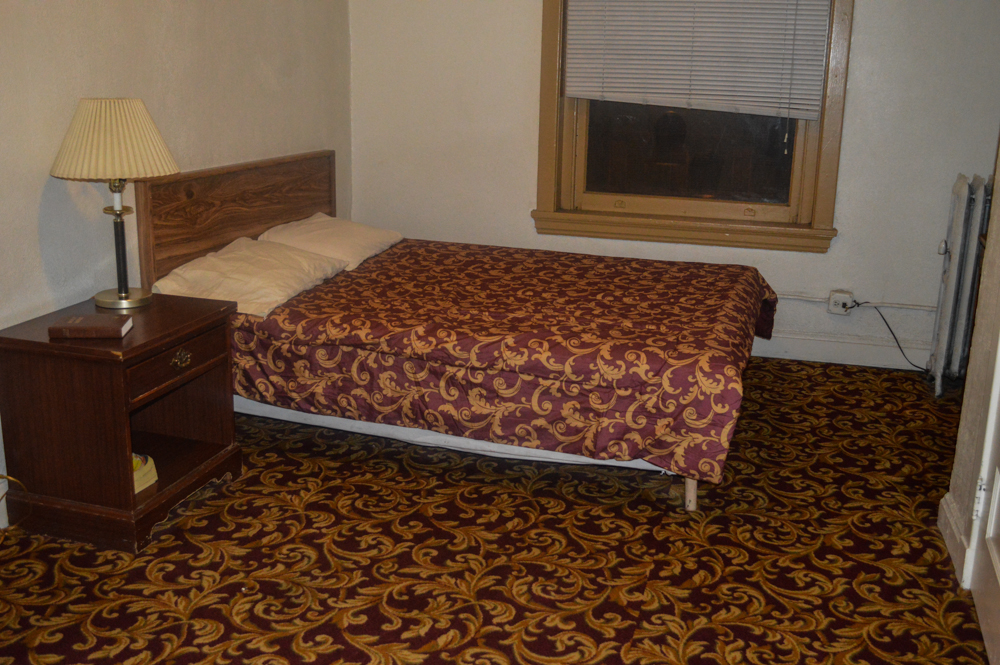 Part of the point of traveling is staying able to adapt to different conditions. Sometimes that means posh hotels and glamorous ecolodges in the jungle. Other times it means standing in the lobby of a sketchy downtown men's hotel and having the clerk ask, "Will you need a towel?" Well, I'm staying three nights. A towel might come in handy. So I paid my three dollar towel deposit. Alas, I failed to pay my bathmat/washcloth/cup/soap deposit. It's the rare hotel that doesn't even give you soap.
But it's also a rare hotel that charges you $48 – including tax and wifi – two blocks from the Denver Art Museum, with many wonders of the city a short walk away. And the Eleventh Avenue Hotel & Hostel isn't really an old man's hotel. It just kind of looks like one. Or is it? It's been a long time since I've stayed at a place with a big sign over the counter listing the rules, including no alcohol and no visitors in your room.
You can sleep in a dorm for $21. Or, if you're uppity like me you can spring for a private room with private bath for $48. Women traveling alone should consider this option.
Here are the pros of my chosen lodging, besides cost and convenient location:
Friendly and helpful staff
Separate hot and cold, just like my old sink!
Friendly and helpful staff
Fabulous old clawfoot tub
Wall-hung sink with separate hot and cold, just like I used to have
Hilariously matched carpet and bedspread, both maroon with ornate golden swirls
Tons of space for yoga
Closet
Common room with kitchen and couches down the hall
View from my window of colorful neon display at "Wine & Spirits," the store across the street
Cons:
Aforementioned lack of amenities (I'd at least like soap and a cup. So dirty! So thirsty!)
Kind of noisy between busy street and some party going on nearby
Flimsy lock (but if you put your chair in front, at least you'll wake up if somebody tries to get in)
Spongy-feeling floor
Of course saving money on lodging frees up the budget for plenty of vegetarian meals out. I found downtown Denver super easy to navigate from my hotel, both as a pedestrian and a vegetarian.
If you like this post, please share!