The Capilano Suspension Bridge is both very touristy and extremely relaxing. To minimize the touristy and maximize the relaxing, go first thing in the morning, and after Labor Day.
The 460-foot bridge was built in 1889, and was quite an engineering feat. I visited on a Wednesday, arriving at 9:30 am when the park was still quiet. Only a couple dozen other people were walking around in the drizzly morning. I walked across the bridge with a few other people, serenely looking down at the Capilano River. But by 11, it was rush hour on the bridge, which makes it swing so much most people were holding on.
In the last 15 years or so, this attraction has had great additions. Now visitors can walk a series of treetop canopies, shorter suspension bridges strung between trees. The trees were built with safety in mind – for trees as well as people. Builders used hand tools, pulleys and ropes instead of heavy machinery. Viewing platforms are affixed to the trees with steel collars that spread pressure equally through the trees, instead of using nails. Each platform has a short, educational sign telling guests something about the forest. My favorite was about the shy, brown-eyed barred owl, whose cry sounds like, "Who cooks for you all? Who cooks for you all?"
Another display shows how fast different tree grows. You can measure yourself against a yardstick, your height revealing how old you are in tree years. At five-foot-six, I'm 9 ½ in Doug fir years, 13 in red cedar and 15 ½ in hemlock years. Signs identify some of the oldest trees, such as a 400 year-old, 120 foot high, 9 foot circumference red cedar. Natives call it "the tree of life" because it's used for everything from building shelters to making baby diapers.
When I visited, the smell of the rain on the trees was so fresh, the sound of the river so pleasant, it felt like the forest despite it being such a tourist attraction. Capilano was handing out free yellow ponchos to people. From a distance, up in the tree canopies, they looked like exotic birds.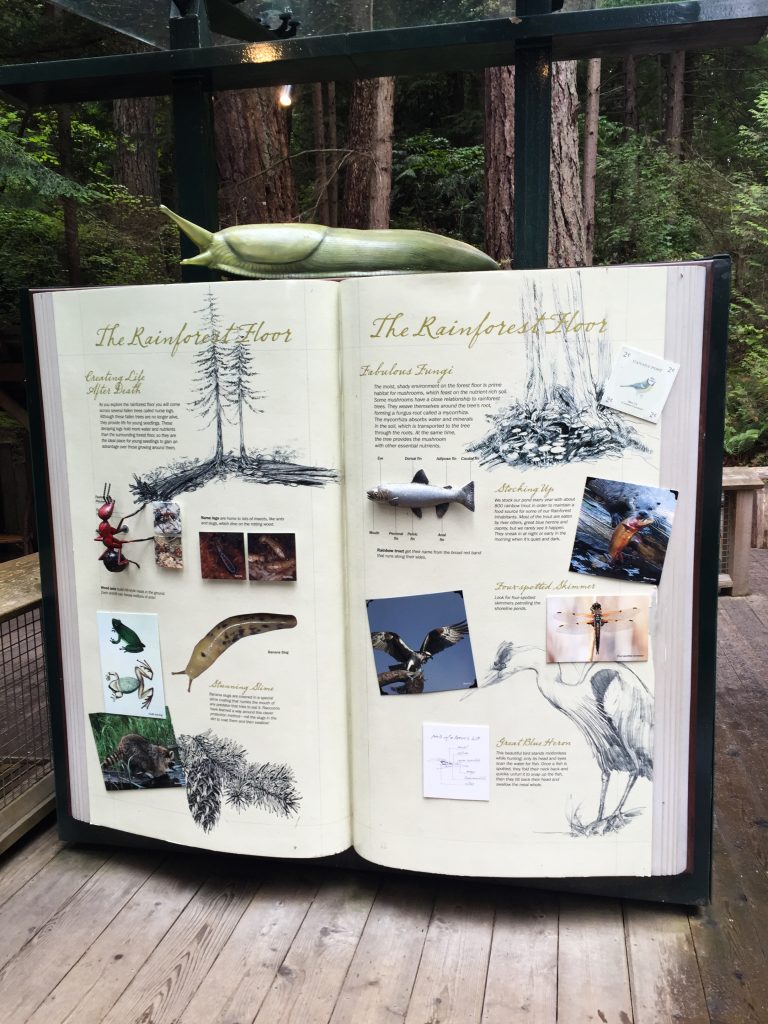 Bright yellow banana slugs love this forest. I saw a few huge specimens. There's even a giant banana slug replica over one of the educational displays. From this same display I also learned that the slime on a banana slug numbs the mouth of any predator that tries to eat it. Now I am even less likely to ever put one in my mouth.
So here's my advice for people who are contemplating a visit. This is a pretty accessible outdoor walking activity, as long as you're not afraid of heights and can walk up and down stairs. Wear shoes with a good tread, as this is a rainforest and the trails are often slippery. And like I said before, go early. A free shuttle runs every 15 minutes from downtown starting at 8:30 a.m. I took the 9:00 from Canada Place, and am glad I didn't leave any later. I highly recommend this place if you want an easy nature walk close to the city of Vancouver, and a rare experience to get up high in the trees.
If you like this post, please share!