The Women's Bean Project uses the tagline "where a woman earns her future." This Denver-based social enterprise has a proven track record of helping women do just that. Since 1989, they've offered transitional employment to impoverished women, and taught them useful skills like food production.
The good news for vegans? That food is beans. Mostly. There's cornbread mix, too, and now a new line of popcorn.
The project recently sent me a few types of beans to try. The recipes on the bags aren't necessarily vegan, but can easily be made so. For example, I substituted ground flax seed and soy milk for eggs and dairy in the cornbread, and it came out perfectly. And vegetable stock works fine instead of animal stock when making soups.
Jossy Eyre founded the Women's Bean Project in 1989. She was inspired by the hopelessness of the situation in a shelter where she was volunteering. She wanted to help women learn skills that would free them from a cycle of poverty and dependency, and offer hope for their children.
Women join the project for six to nine months, during which time they earn money and get job and life skills coaching. These women have had hard times. Many have little education, a history of substance abuse and/or have been incarcerated.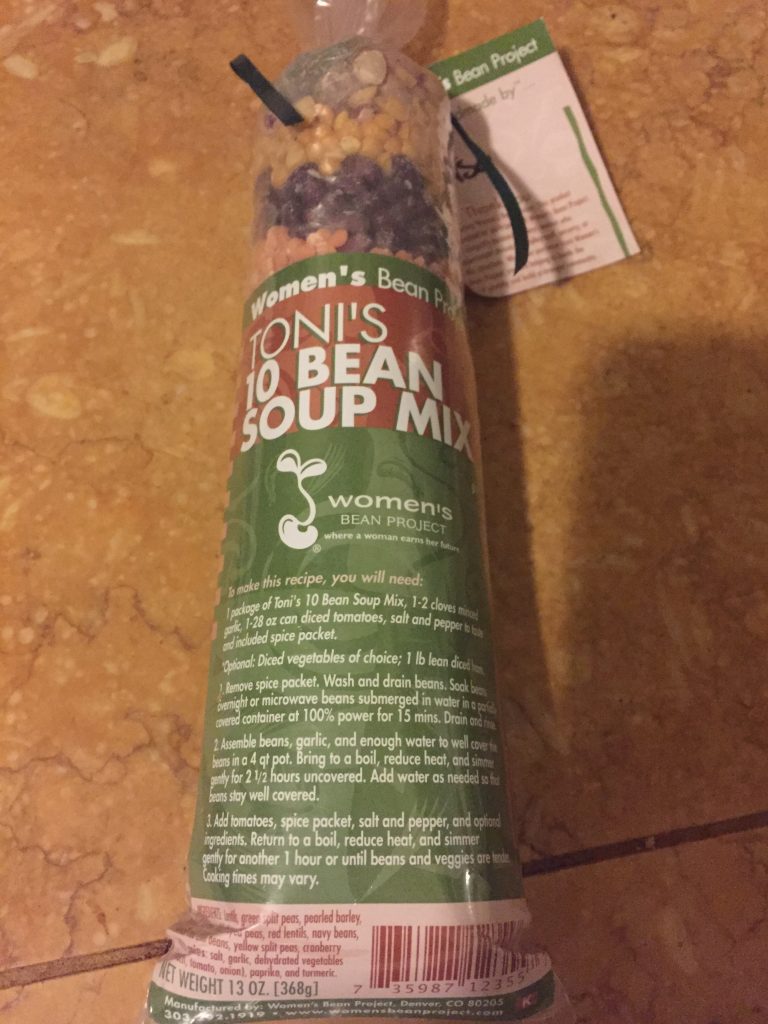 So I'm going to plug beans as the perfect holiday gift. The Women's Bean Project packages them up so they look pretty, and includes a little handwritten tag to let you know who assembled your beans. Beans are healthy. And, unlike so many gifts, they don't take up permanent space in an already-cluttered house. You eat them, they're gone. Lastly, I'm hoping I've convinced you that this is gift money well spent. Here's the lowdown on buying their products.
If you happen to be in Denver on the first Friday of the month, consider touring the Women's Bean Project and seeing the program firsthand.
If you like this post, please share!