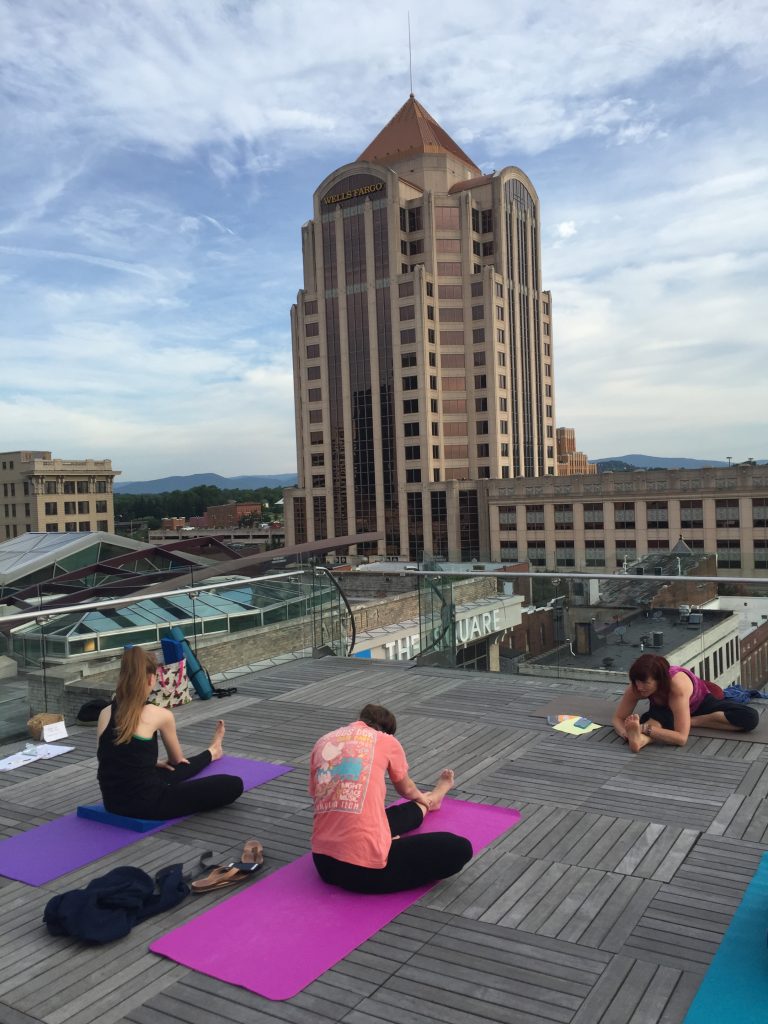 On Wednesday mornings, a handful of early risers join Bonny Branch for yoga on the roof of downtown Roanoke's Center in the Square building. The seven a.m. start time is early, but it's well worth sacrificing a few minutes of sleep to experience rooftop views and Bonny's gentle, cheerful instruction.
During my recent trip to Roanoke, six of us yogis practiced together. The sun was just starting to heat up. Bonny welcomed my friend and me and was happy to work with us – I had a twisted ankle and my friend was a yoga newbie. She put us at ease and seamlessly integrated us with her regulars. I especially enjoyed how she directed us using the surrounding landmarks. "Point your toes toward the Roanoke Hotel," or, "Face the highway."
In addition to teaching yoga, Bonny is an accomplished dance instructor. She started her dance career in ballet, but fell in love with partner dancing. A graduate of the Ballroom Dance Teachers College in San Francisco, Bonny's taught everybody from competitive dancers to couples wanting to look good while dancing at their wedding reception. She believes in changing the world for the better by sharing the gifts of movement and body awareness.
Bonny teaches her yoga on the roof class year-round. If you're in Roanoke on a Wednesday, check it out. Dress in layers and bring your own mat. Suggested donation is $10 to $12.
If you like this post, please share!